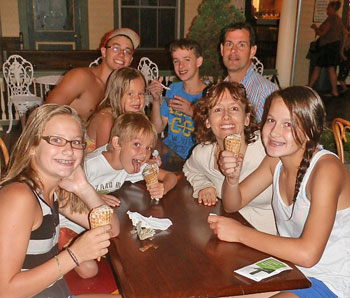 At the top of my priority list is my faith and family – and as a busy, blessed mom of 6 children, my organizational skills have surely been put into practice and refined a lot over the years! Thankfully, I've always been good at cleaning up messes, sorting through items, getting rid of stuff and putting things away. I have learned the blessing of living simply and creatively in small spaces, finding organizing storage solutions wherever I go. I find myself truly inspired to organize, and want to offer hope to each new client as we work together. I bring a unique blend of compassion, humor and creativity to each client session. I often use the phrase "little by little" as part of my coaching others as they embrace change. The process of learning to let go and changing the way we view our 'stuff' often happens over time. Organizing is about creating order where it is lacking so we can make long term improvements and enjoy life more!
I hold a B.S. in Health Education and recognize that being organized ties into healthy living. Having more order simply creates more peace and contentment. It really is a privilege to see clients experience joy when things are not overwhelming them as much or stifling their creativity. My diverse background includes many years of working with children and the elderly, teaching health programs, working with refugees while living overseas, planning and coordinating many events, as well as packing and moving many times. I work very hard and love seeing a job done well.
My passion is to use my organizing skills to not only transform spaces, but also to transform lives. I'm a positive, loving and energetic person, and have a heart for helping others. I have gained much insight into life as I cared for my elderly father, who suffered from Dementia/Alzheimer's for years. My combination of past experiences, organizational abilities and continuous education in the field of professional organizing enables me to help others through my organizing work. As a Professional Organizer, I am thrilled to be able to continually be learning and growing in my skills through my affiliations with NAPO, ICD and Faithful Organizers, that I may better serve my clients. I desire to make a difference in many lives!
Code of Ethics:
As an active member of the National Association of Professional Organizers (NAPO), the Northern New Jersey Chapter of the National Association of Professional Organizers (NAPO-NNJ), Faithful Organizers and the Institute For Challenging Disorganization (ICD), I stand by a strong professional as well personal Code of Ethics:
Working Relationships
I will serve my clients with integrity, competence, and objectivity, and will treat them with respect and courtesy.
I will offer services in those areas in which I am qualified and will accurately represent those qualifications in both verbal and written communications.
When unable or unqualified to fulfill requests for services, I will make every effort to recommend the services of other qualified organizers and/or other qualified professionals.
I will advertise my services in an honest manner and will represent the organizing profession accurately.
Confidentiality
I will keep confidential all client information, both business and personal, including that which may be revealed by other organizers.
I will use proprietary client information only with the client's permission.
I will keep client information confidential and not use it to benefit myself or my firm, or reveal this information to others.
Fees
I will decide independently and communicate to my client in advance my fees and expenses, and will charge fees and expenses which I deem reasonable, legitimate, and commensurate with my experience, the services I deliver, and the responsibility I accept.
I will make recommendations for products and services with my client's best interests in mind.