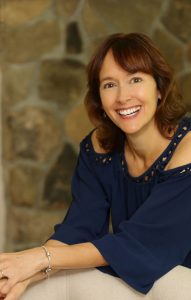 My passion for helping others "clear clutter inside and out" stems from my personal journey. I grew up in a dysfunctional home, surrounded by squalor, and greatly affected by the depression, addiction, and abuse of others. Shame and insecurity were familiar friends. My father worked two jobs and was not often home while my mother spent most of her days in bed. When I was eleven, she was diagnosed with cancer that took her life in five short years. During high school, I dealt with my internal pain through partying, overeating, bulimia and eventual anorexia. Looking back, I can see how addiction was calling out my name. I was restless and empty; lost, yet not alone.
The seeds of faith God planted in me as a young child began to grow within the chaotic mess of my soul. I became aware of how He'd always been there: protecting, providing and beckoning me towards Himself. At age eighteen, I discovered a lasting hope in Jesus. His love and grace utterly transformed my life then and continues to do as He walks with me daily, amidst life's joys and sorrows.
Over the past few years, I've experienced tragic loss: my father to dementia, my three-year-old nephew to meningitis, and most recently, my brother to suicide. The deep, paralyzing pain I felt as I've gone through the process of grieving caused me to become situationally disorganized. I needed the support of others to dig down and sort through the clutter that built up in my home, mind, and soul. I have experienced healing and restoration through learning to let go of the things that don't really matter and discovering all the things that really do: the lasting treasures of moments spent with God and those I fiercely love.
My Life Coaching and Professional Organizing training have continued to lead me to a deeper understanding of who I am and helped me to discover my identity, values, and strengths. It has been through brokenness that God has given me a heart to understand others and He has equipped me with skills to listen, encourage and teach. I've realized it's not what happens to us; it's what we DO with what happens to us. Therefore, I choose to live each day with gratitude and live out the purpose God has for my life. I feel privileged to help others do the same: clearing their clutter so that they can find hope, resilience, and purpose in the midst of life's challenges… and gently offer it back to them when they lose sight of it. I treasure all my clients and especially love coming alongside those challenged by chronic disorganization and facing difficult life transitions.
Lastly, when I am not cooking for, cleaning up after or tending to my husband or six kids, you might just find me walking, hiking, biking or spending time with friends. I cherish quiet moments with God and feel most happy while sitting outside on a sunny day with a morning coffee and my favorite Book of all time.